Welcome to the Bloom & Bear website.
Terms & Conditions of Order
If you continue to browse and use this website, you are agreeing to comply with and be bound by the following terms and conditions of use. Orders for products supplied through this website are subject to Bloom & Bears terms and conditions of order. If you do not wish to be bound by these terms and conditions please do not use this website. The term 'Bloom & Bear' or 'us' or 'we' refers to the owner of the website. The term 'you' refers to the user or viewer of our website.
The content of the pages of this website is for your general information and use only. It is subject to change without notice. This website contains material which is owned by Bloom & Bear. This material includes, but is not limited to, the design, layout, look, appearance, photography and graphics. Reproduction is prohibited. Unauthorised use of this website may give rise to a claim for damages and/or be a criminal offence. Your use of this website and any dispute arising out of such use of the website is subject to the laws of England, Northern Ireland, Scotland and Wales.
Confidentiality
We assure you of our discretion and respect your privacy. Your personal details are never used without your consent. We will never share your details with a third party without your consent. At any time you can contact Bloom & Bear and ask for personal details to be amended and any communication from us to cease.
Prices
The pricing of products shown on this website may from time to time be promoted, in such cases all prices will be displayed on the website. All prices are subject to change without notice.
Product Availability
Bloom & Bear only hold a limited stock of products at any one time. We cannot guarantee product availability on any specific item. Bloom & Bear use various UK based suppliers for components parts, kits and other materials. We cannot be held responsible if supplies are delayed for unseen circumstances from third party suppliers. If delays are incurred, you will be notified and kept informed. All products are hand made by Tee Stevenson and can be made to order and produced for you but this may affect the delivery time. It would be advisable to contact Tee directly by emailing tee@bloomandbear.co.uk if items are required by a specific date.
Postage
Postage & Packaging is free. If the product is available from stock, items will be dispatched in 2-3 working days, if the item has to be made to order then these items will be dispatched in 7-10 working days. Items of greater value are dispatched by Recorded delivery and a signature will be required when delivered. If you live local to Newbury, I can arrange to deliver larger items by person.
Packing
All goods are dispatched promptly after the placing of an order, using suitable packaging to ensure safe and secure delivery. Sometimes postal packing materials and outer packaging is reused in an effort to reduce waste.
Returns
We want you to be pleased with your purchase. If you are unhappy in any way you should notify Bloom & Bear in writing via email to tee@bloomandbear.co.uk
Notice of Cancellation
You have the right to cancel your order at any time prior to dispatch of the goods. This right can be exercised by sending a written note of cancellation to us at the email address: tee@bloomandbear.co.uk . If you cancel your order, any sum paid by you or on your behalf shall be repayable to you.
If the goods have been dispatched and you require the order to be cancelled, please accept the delivery as normal and arrange for the goods to be returned to Bloom & Bear. On receipt we will issue a full refund minus any delivery charges.
Products damaged on arrival
We will replace any damaged or defective product provided that we are notified in writing at tee@bloomandbear.co.uk within 3 days of your receipt of the goods. If we cannot replace the defective item we will offer an alternative or refund you in full. We will also refund your postage cost in returning the product to us providing we see proof of postage costs.
Quality guarantee
We guarantee the quality of every item and will replace any defective item which is returned within 28 days of delivery. Fair wear and tear accepted.
Website privacy policy
This website is operated by Bloom & Bear. We take your privacy very seriously therefore we urge to read this policy very carefully because it contains important information about:This website is operated by Bloom & Bear.
We take your privacy very seriously therefore we urge to read this policy very carefully because it contains important information about:
• who we are,
• how and why we collect, store, use and share personal information,
• your rights in relation to your personal information, and
• how to contact us and supervisory authorities in the event that you have a complaint.
Who we are
Tee Bag Creative ('we' or 'us') (trading as Bloom & Bear) collect, use and are responsible for certain personal information about you. When we do so we are regulated under the General Data protection Regulations which apply across the European Union (including the United Kingdom) and we are responsible as 'controller' of that personal information for the purposes of those laws.
The personal information we collect and usea) Personal information you provide to usWe collect the following personal information that you provide to us:Name, address, email and phone numberSome examples of when we collect this information include:When completing a sales orderWhen making an enquiry via the contact form
b) Personal information you provide about third partiesIf you give us information about another person, you confirm that the other person has appointed you to act on their behalf and agreed that you:shall consent on their behalf to the processing of their personal data;shall receive any data protection notices on their behalf.
How we use your personal informationWe collect information about our users for the following purposes:To contact you regarding an order.For postal delivery purposes.
Who your information may be shared withWe may share your information with:Law enforcement agencies in connection with any investigation to help prevent unlawful activityWe will not share you personal information with any other 3rd parties.
Whether personal information has to be provided by you, and if so whyThe provision of the following information is required from you:Name, address, email, phone numberThis is to enable us to do the following:To dispatch and deliver your order.To contact you for any reason regarding your order.To confirm dispatch of your order.We will inform you at the point of collecting information from you, whether you are required to provide the information to us.
How long your personal information will be keptWe will hold your personal information for the following periods:Name and address for 12 monthsThese periods are no longer than necessary in each case.
Reasons we can collect and use your personal informationWe rely on the following as the lawful basis on which we collect and use your personal information:consentcontract
Keeping your information secureWe have appropriate security measures in place to prevent personal information from being accidentally lost, or used or accessed in an unauthorised way. We limit access to your personal information to those who have a genuine business need to know it. Those processing your information will do so only in an authorised manner and are subject to a duty of confidentiality.We will also use technological and organisation measures to keep your information secure. These measures may include the following examples:All data is stored securely and payments are processed via PayPalWe also have procedures in place to deal with any suspected data security breach. We will notify you and any applicable regulator of a suspected data security breach where we are legally required to do so.Indeed, while we will use all reasonable efforts to secure your personal data, in using the site you acknowledge that the use of the internet is not entirely secure and for this reason we cannot guarantee the security or integrity of any personal data that are transferred from you or to you via the internet. If you have any particular concerns about your information, please contact us using the details below.
Transfers of your information out of the UKWe will not transfer your personal information outside of the UK at any time.
Children and the validity of consentWhere we obtain consent from any user we will take reasonable steps to ascertain whether the user is over 13 years of age and whether the child is sufficiently informed to give valid consent. If the user is not, parental consent will be required to provide consent for the processing of any personal information.
What rights do you have?Under the General Data Protection Regulation you have a number of important rights free of charge. In summary, those include rights to: • fair processing of information and transparency over how we use your use personal information • access to your personal information and to certain other supplementary information that this Privacy Notice is already designed to address • require us to correct any mistakes in your information which we hold • require the erasure of personal information concerning you in certain situations • receive the personal information concerning you which you have provided to us, in a structured, commonly used and machine-readable format and have the right to transmit those data to a third party in certain situations • object at any time to processing of personal information concerning you for direct marketing • object to decisions being taken by automated means which produce legal effects concerning you or similarly significantly affect you • object in certain other situations to our continued processing of your personal information • otherwise restrict our processing of your personal information in certain circumstances • claim compensation for damages caused by our breach of any data protection lawsFor further information on each of those rights, including the circumstances in which they apply, see the Guidance from the UK Information Commissioner's Office (ICO) on individual's rights under the General Data Protection Regulations (http://ico.org.uk/for-organisations/guide-to-the-general-data-protection-regulation-gdpr/individual-rights/)If you would like to exercise any of these rights please: • email, call or write to us • let us have enough information to identify you • let us have proof of your identity (a copy of your driving license, passport or a recent credit card/utility bill) • let us know the information to which your request relatesFrom time to time we may also have other methods to unsubscribe (opt-out) from any direct marketing including for example, unsubscribe buttons or web links. If such are offered, please note that there may be some period after selecting to unsubscribe in which marketing may still be received while your request is being processed.
How to complainWe hope that we can resolve any query or concern you raise about our use of your information.The General Data Protection Regulation also gives you right to lodge a complaint with a supervisory authority, in particular in the European Union (or European Economic Area) state where you work, normally live or where any alleged infringement of data protection laws occurred. The supervisory authority in the UK is the Information Commissioner who may be contacted at https://ico.org.uk/concerns/ or telephone: 0303 123 1113.
Changes to the privacy policyThis privacy policy was published on 11/12/2020 and last updated on 11/12/2020.We may change this privacy policy from time to time. You should check this policy occasionally to ensure you are aware of the most recent version that will apply each time you access this website. We will also attempt to notify users of any changes by:By notice on the website
Contacting usIf you have any questions about this policy or the information we hold about you, please contact us by:e-mail: tee@bloomandbear.co.ukpost:Tee Bag Creative LtdWeirbank,Monkey Island Lane,Bray On Thames,Maidenhead,SL6 2ED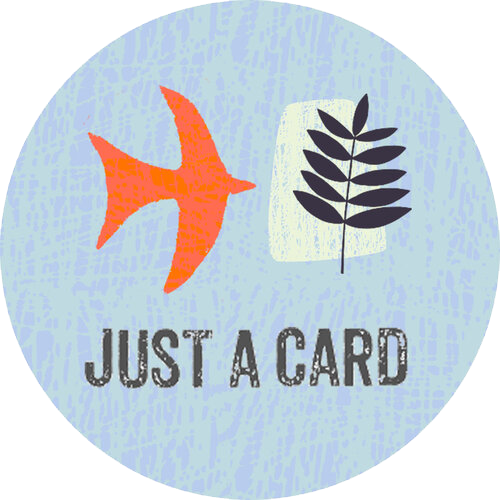 JUST A CARD is a grassroots campaign on a mission to encourage people to support, value and buy from artists, makers, independent shops and small businesses. Every sale, even just a card, is vital to their prosperity and survival. Make your purchases count; just a card, just a cushion, just a gift is all it takes.