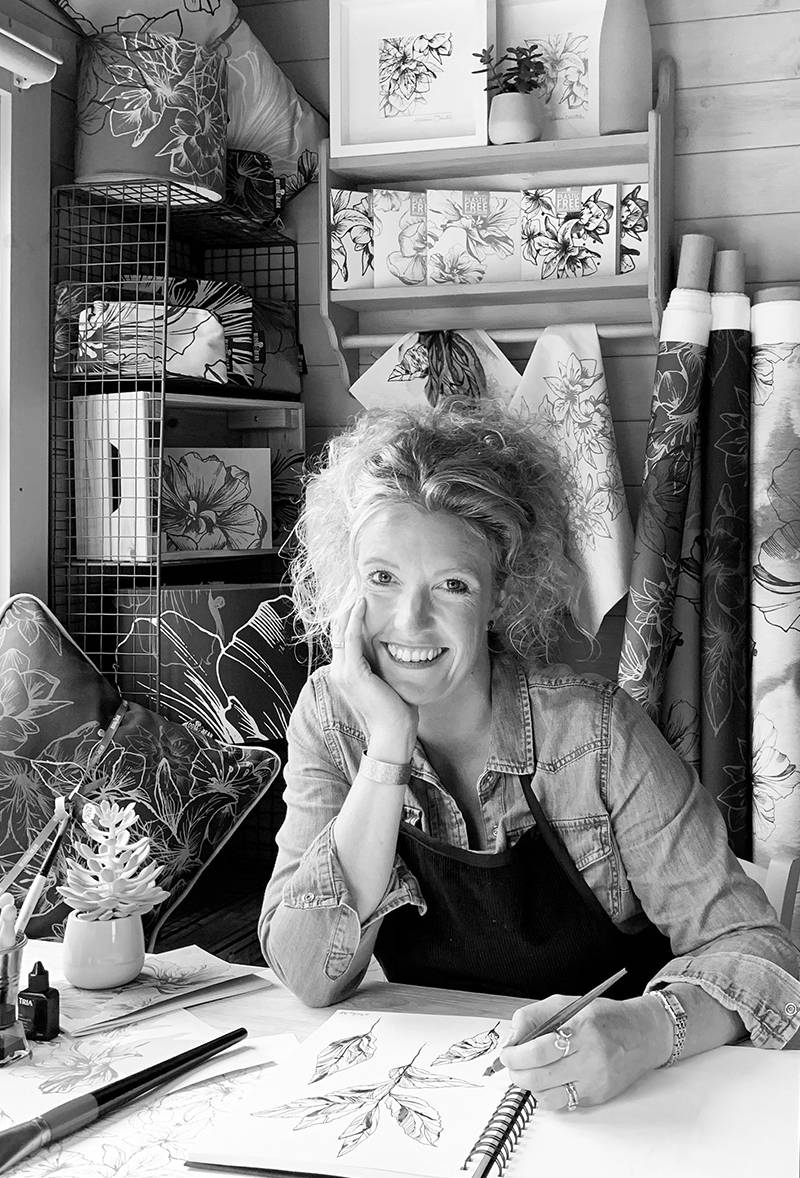 I like to drink tea, draw and create…
I'm Tee Stevenson – a surface print designer with a passion for blooms.
I started my career in the Global Brand and Packaging industry, where I spent over 20 years designing in a digital world for a wide variety of international brands but I really missed the immersive experience of getting my hands dirty and creating artwork 'by hand' – from ink and paint. It was always a dream of mine to one day create my own brand around my passion for all things botanical.
My love of plants stems from past generations handed down from my Grandma and Mum…you could say it's in my genes. They have both influenced my knowledge and shared in the affinity I have for gardening, the great outdoors and living with nature. You'll often find me foraging in hedgerows or lying in the grass striving to capture that perfect shot of a bloom in all it's glory. I'm fascinated and inspired by the shapes, colours, textures and forms that the plant world displays.
I work from my garden studio based in Newbury, West Berkshire, where I design bold, botanical style prints created from hand drawn illustrations. I like to work with colour combinations in classic heritage tones, sometimes adding a striking pop of colour.
When you buy something handcrafted from the Bloom & Bear studio, you are buying more than a piece of nature inspired homeware or a handcrafted gift for you or someone you love. You are buying many creative processes that are all part of that individual item. All of these methods and preparations take time, effort, imagination and experience to create. From growing – to sewing…it's all a matter of transformation.
Where Inspiration is Home grown
My creative process begins in the garden where I gather much of my inspiration. I grow a variety of plants. As the seasons change throughout the year, I photograph and record each bloom before sketching or painting it. I then sketch and illustrate with a nib pen, inks and watercolour.
The illustrations are then transformed into expressive patterns of botanical layers ready for printing onto items of stationery or cotton fabrics to create ranges of homeware and accessories. Selected products are screen printed by hand, giving an item it's own unique character, perfect for when you want a card or gift that has that personal touch.
After printing, the final stage is to make each individual piece by hand. One day I might be up to my elbows in ink screen printing a batch of cards, sewing a lovely plump cushion or hand-rolling a matching lampshade for a client's new home. No two days are ever the same in my world and that's just how I like it.
Thank you for choosing to support a small, independent maker…you really are blooming marvellous!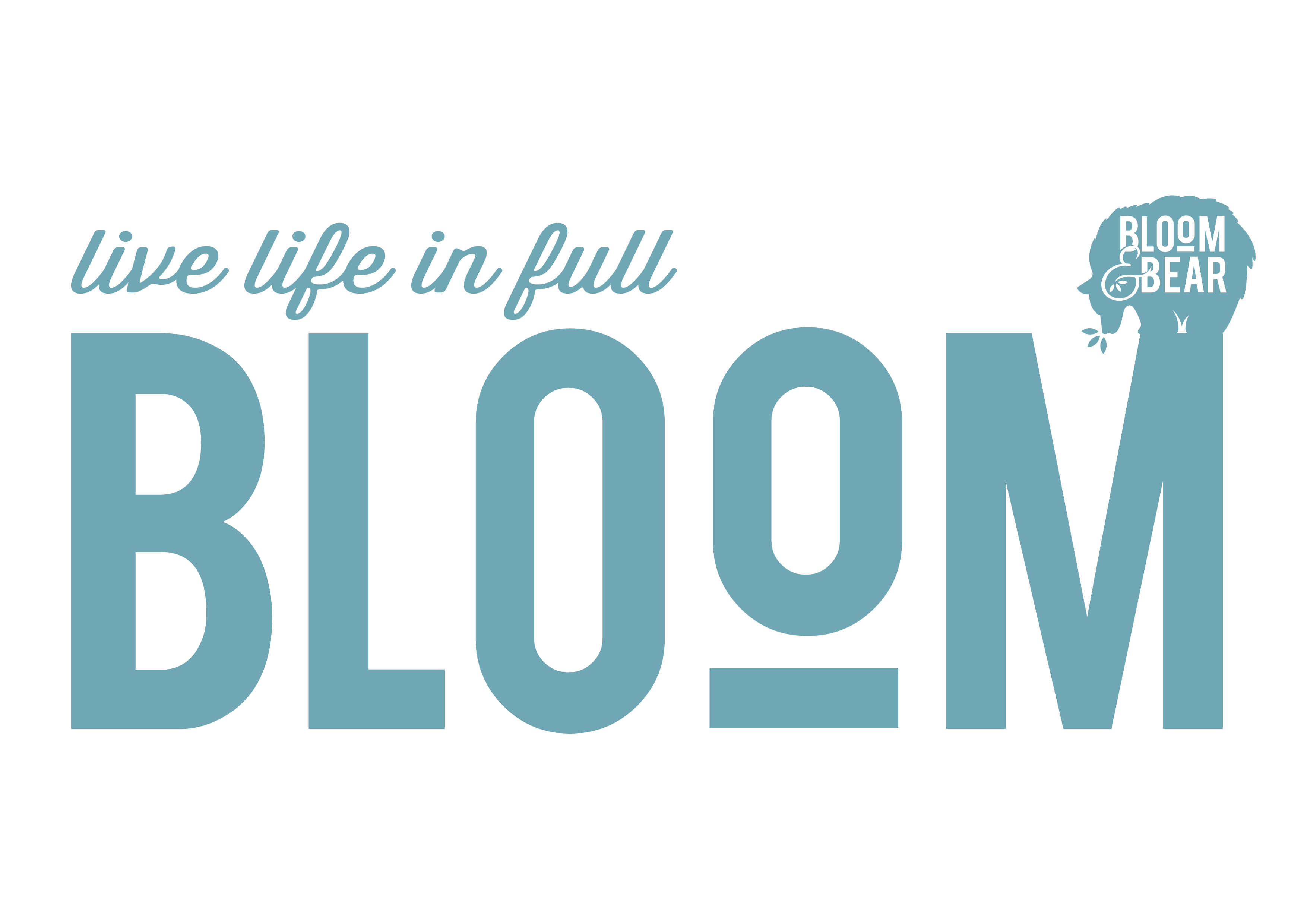 Ethos: A home where you can live life in full bloom
We all have the option to make responsible choices in how we live and what we buy.
Bloom & Bear strive to ensure products are created with as little impact on the environment as possible and continually seek to make improvements regarding suppliers, stock and sourcing materials for a more sustainable way of living.
Recycled paper is used wherever possible and the majority of stock used for greeting cards is certified by the FSC.
Only natural, organic cottons and unbleached luxury linen fabrics are sourced for the creation of Bloom & Bear homeware and accessories. They are printed using water-based pigment inks that do not contain any harmful substances. Designs are printed on OEKO-TEX 100 certified fabric using OEKO-TEX Eco Passport certified ink. All Bloom & Bear heavyweight cottons are GOTS certified organic.
Product packaging is kept to a minimum. Plastic packaging, bags or wraps are rejected in favour of alternative products that are made from plant based materials. These are fully biodegradable and compostable.
The aim is to celebrate the natural world without it costing the earth.
Fabrics
Discover botanical printed cottons inspired by nature
Whether you are looking to refresh your home interior, buy an original handcrafted gift for someone you love or simply want to send something beautiful in the post, then take a closer look at the Bloom & Bear collections.
Stationery
With hand-drawn illustrations inspired by blooms grown in Bloom & Bear's garden, these beautifully printed greeting cards will brighten anyone's day. Who will you send one too?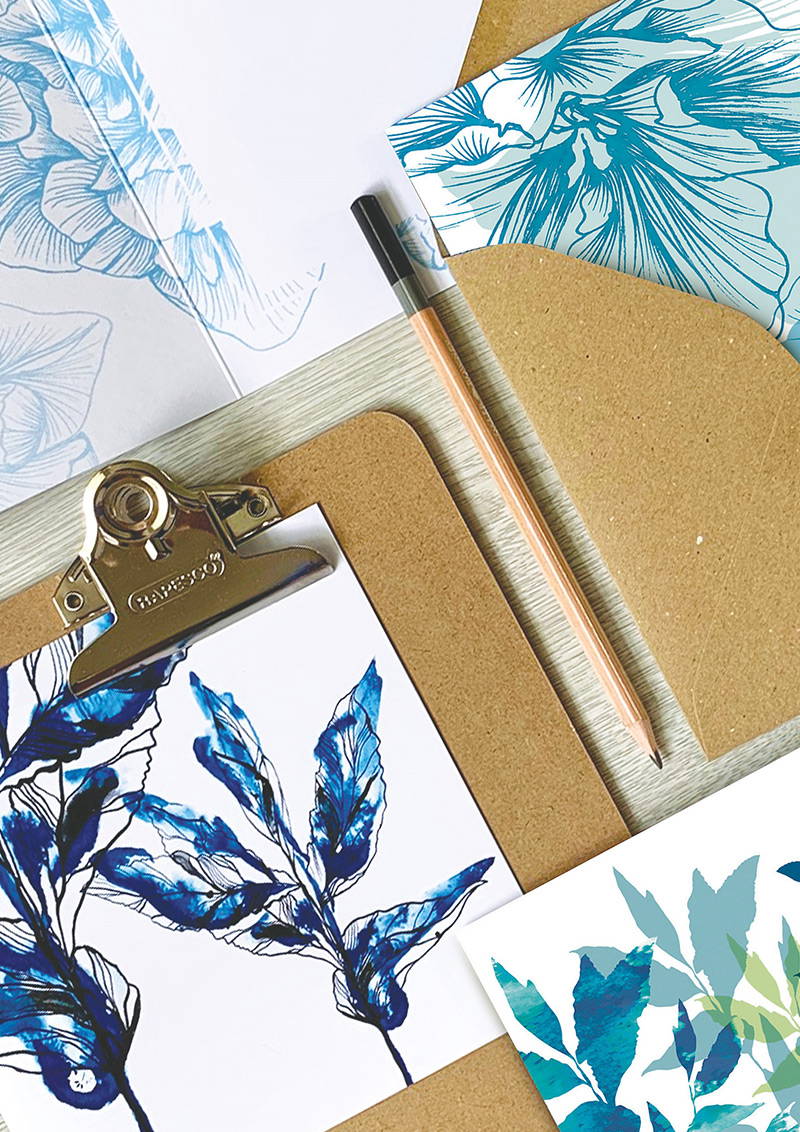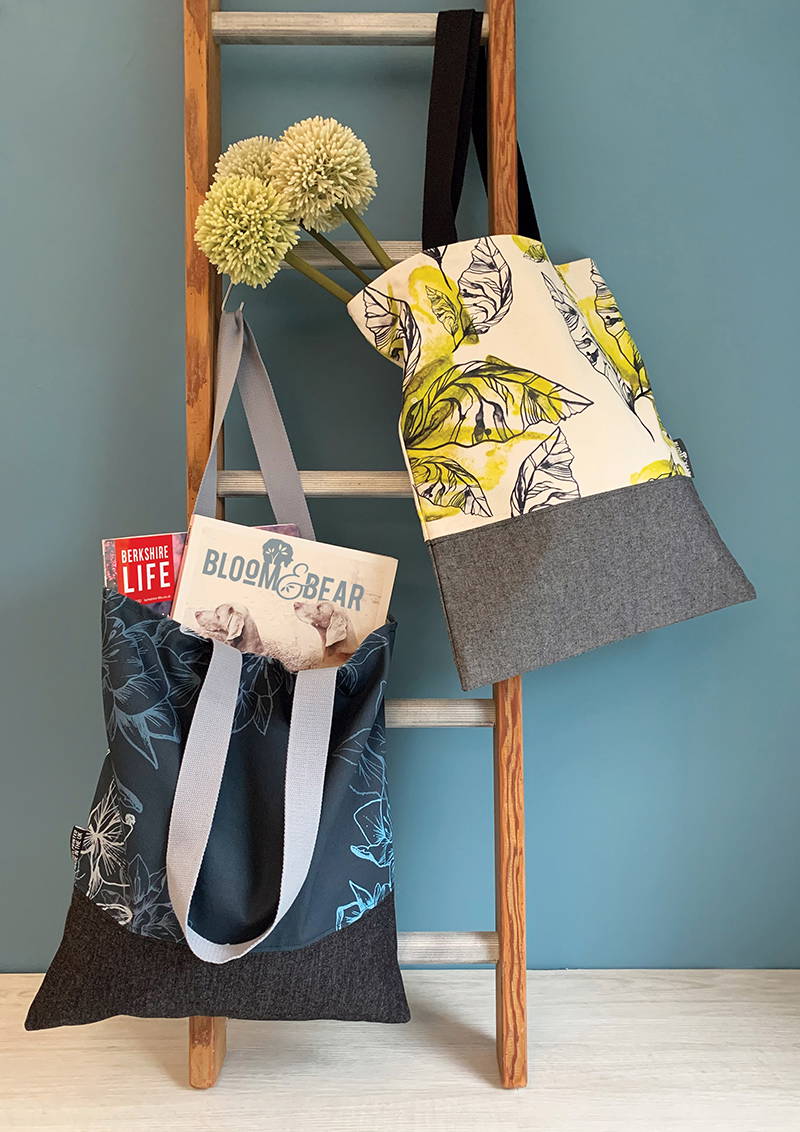 Accessories
Treat yourself or someone else to a practical, beautiful and individually handcrafted gift. Keep life's bits and bobs organised in a handy zip pouch – then keep that safe in a Bloom & Bear cotton tote bag. Even your clothes pegs will have a smart place to 'hang out' in botanical inspired peg bags.
Homeware
Your home is as individual as you are so why not treat your rooms to a lovely plump cushion or a matching lampshade and add that botanical touch your surroundings.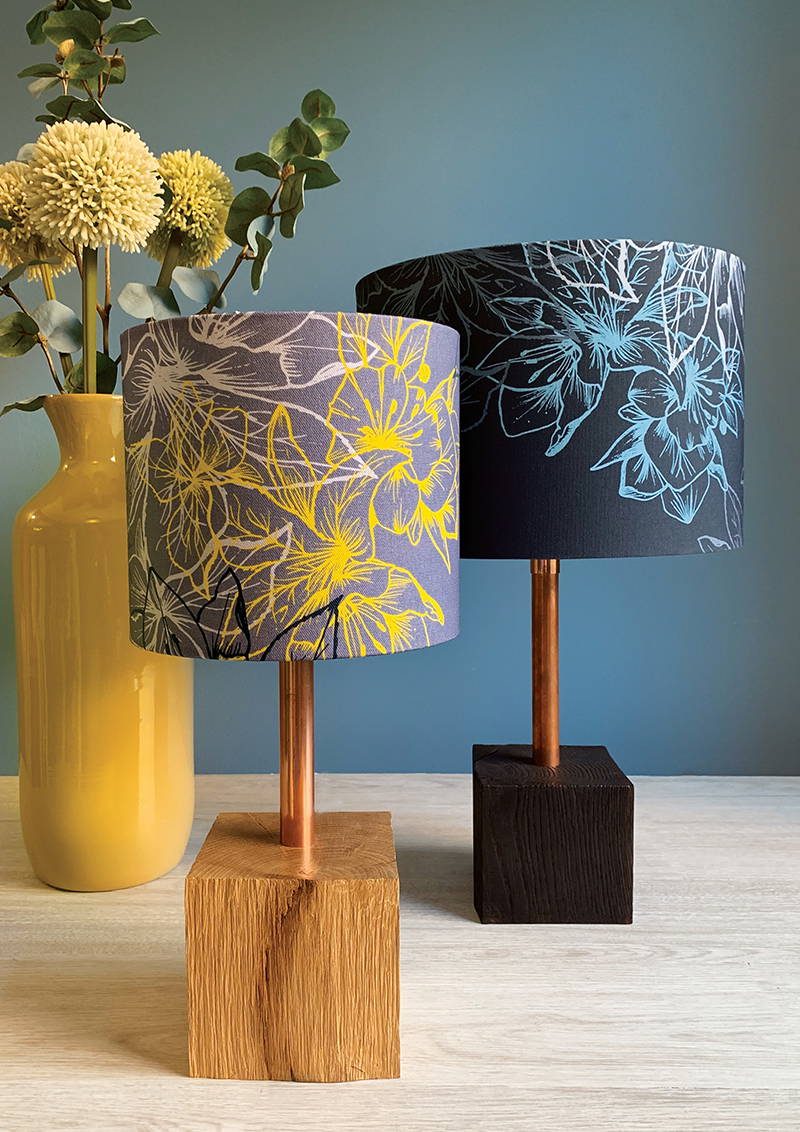 Tee is very happy to discuss any enquiries you may have about her work and products.
Simply fill in the form to get in touch.
If you are Wholesale and interested in becoming a trade stockist for Bloom & Bear, Tee will send you her latest brochure and price list. To receive a copy please email Tee directly - tee@bloomandbear.co.uk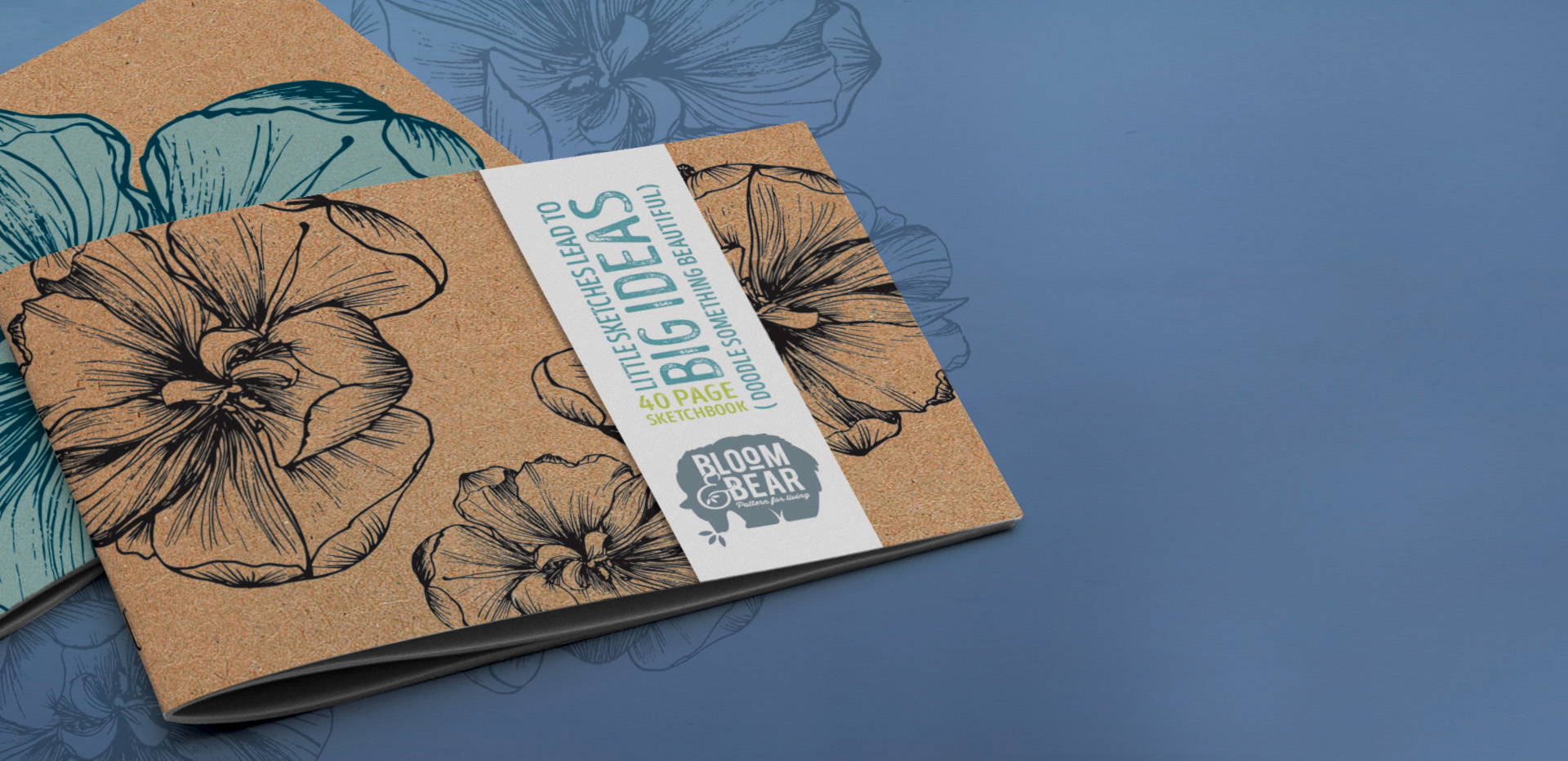 For news about Bloom & Bear events, check out @bloomandbearstudio on Instagram where you can follow this blooming adventure.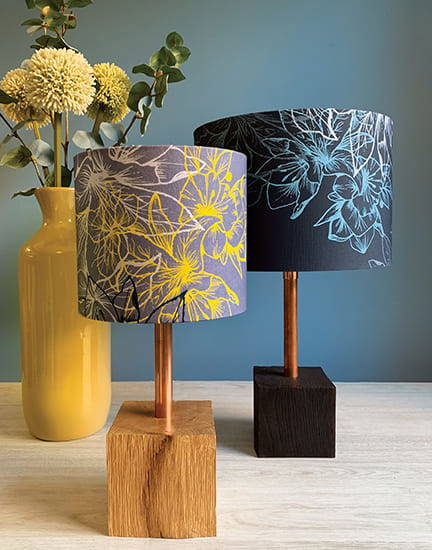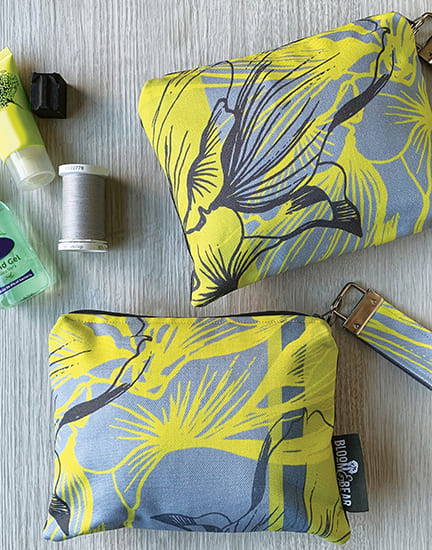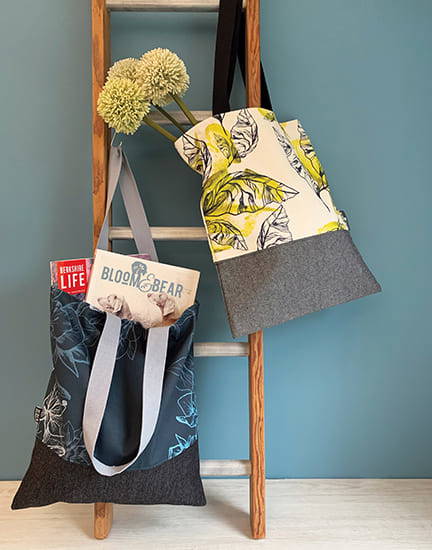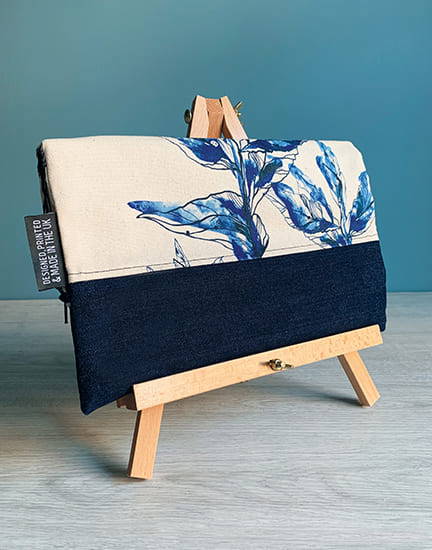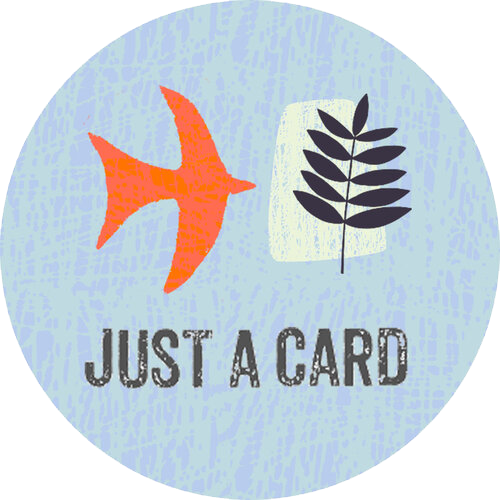 JUST A CARD is a grassroots campaign on a mission to encourage people to support, value and buy from artists, makers, independent shops and small businesses. Every sale, even just a card, is vital to their prosperity and survival. Make your purchases count; just a card, just a cushion, just a gift is all it takes.